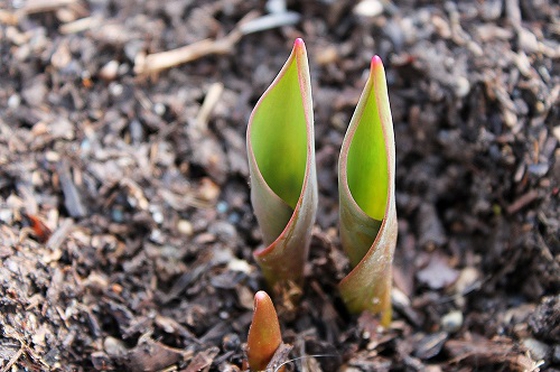 Dear Reader,
The weeks that mark the ending of one year and the beginning of another also herald the deepest and darkest season of the year; those are often the days when the weather is at its coldest, the dark evenings seem to be going on forever and the dawns don't seem to get any lighter. For many people it's a time when folks can feel a bit fed-up, maybe a little depressed, and longing for some light and warmth.
Christmas has passed, the holiday season is drawing to a close and many people are preparing for a return to school or work, or just back to their more regular routine. The world can seem engulfed in darkness, and spring is still hiding itself away. But through these weeks of cold and dark, new things are beginning -- soon the hidden seeds will start to germinate, trees will begin to grow this year's leaves, flowering bulbs are already pushing their way through the earth. Each day, lighter evenings and lighter mornings will nudge their way in and bright, sunny days will gradually make themselves known. Nature is making its plans for the New Year and these stagnant days are a good time for us all to make our plans for the New Year as well.
Plans, I suggest, but not resolutions; resolutions are rarely truly attainable -- they're usually made in a rash moment and when we realise that we haven't kept them, it's too easy to feel that we've failed. Plans can be so much more realistic. Looking back at the past twelve months is a way of planning for the coming twelve months. We may look at our failures and regret the passing of time, but we also remember the good times and the positive things.
As well as our personal plans, we can all be part of pondering the plans for our churches this coming year. Across the two benefices we have thirteen churches, each with its own special concerns, its pattern of services and events, its on-going building work, its need for people to volunteer for a whole range of tasks, and its unexpected surprises (good and not so good) waiting to be discovered. We give thanks for all the very many ways in which so many people have helped, supported and cared for the churches over the past year, and we give thanks that many of you will offer your help and support during this coming year.
Wishing a very happy and peaceful New Year to all who read this,
Elizabeth