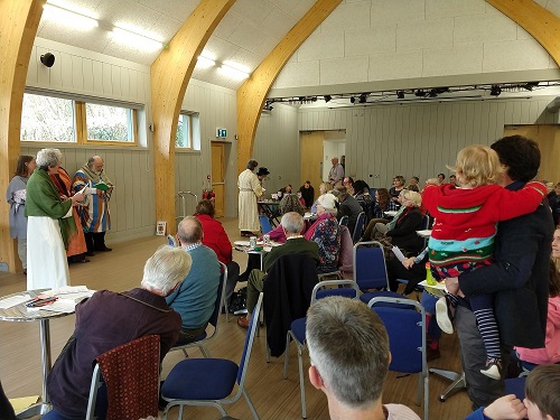 Hello everyone,
The Benefices of St Weonards and Wormelow100 are legally joined as a Group – called The Archenfield Group. This means that Mark, Frances and I work together and collaborate on a number of events during the year – particularly some of the services, such as the Advent Carol Service. That's good for us and it's good for the churches. We meet to say Morning Prayer together one morning most weeks, then we have a cup of tea and a chat about how things are going, as well as planning any upcoming shared events. We hold a 'joint service' four or five times a year to which everyone is welcome. Our most recent Group Service was on June 30th with a service of Holy Communion at Much Birch Church.
Services of Holy Communion will always be an important part of our church life. However, I've observed over recent years that some folks are developing more of an affinity with non-communion services and in our Archenfield Group there are a number of options each month. Little Birch and Much Dewchurch hold Morning Worship while Llandinabo has Matins, Pencoyd has Evening Prayer and Hoarwithy has a Celtic morning service, which is held in the pub for easier accessibility.
There's the All Age Worship service at St Weonards where people of all generations gather together for a less formal time of songs, readings and prayers – and refreshments.
On weekdays each month there's a Meditation service at Orcop, which is a time of peaceful reflection, the mid-week (Thursday) service draws people to share in coffee and cake before a short, informal service in St Weonard's Church, and each week there's a short service of Holy Communion at Much Birch.
Over the past couple of years Frances has introduced a quiet and reflective Taizé service which is held at Hoarwithy church every three months – look out for the dates, the next one is on 27th August.
Also to look out for is the new, occasional, ecumenical service which is held in collaboration with our Methodist & Baptist friends. The most recent such service was on Sunday June 30th at 4pm in Garway Community Centre, which was followed by tea and cake.
You'll find dates for all of the services in the magazine each month. So do have a look and see if there's something that appeals to you, then come along and join us.
Elizabeth