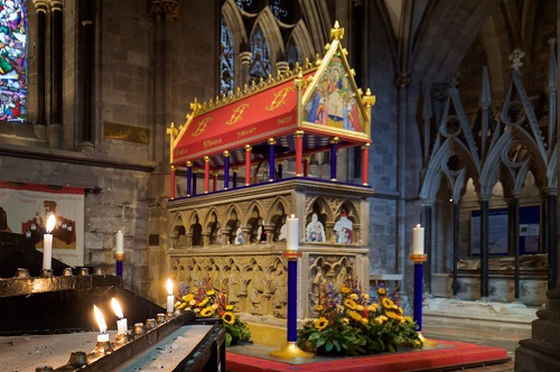 Hello everyone,
During October the church remembers two men called Thomas who lived four hundred years apart and who both had strong connections with the city of Hereford.
The first is St Thomas Cantilupe who was born in 1218 and died in 1282. Thomas was the last Englishman to be canonized before the Reformation. He was educated at Oxford and Paris and was an advisor to King Edward the First. In 1275 he was elected as Bishop of Hereford, a post which he at first declined because it would take him far away from London and the royal court.
Thomas Cantilupe was canonized in 1320 by Pope John XXII and his tomb – now empty – is in Hereford Cathedral. The Cathedral is celebrating 700 years since Thomas' canonization with a year-long festival which will include lectures, exhibitions, special services, pilgrimage walks and music. The festival begins on 2 October (the Feast of St Thomas) and runs to 25 October 2020. Everyone is welcome to take part in the events. There are some information booklets around the churches and details of events can also be found on the cathedral website.
The Arms of Thomas Cantilupe – three leopards' heads with a fleur-de-lis issuing from the mouth – have continued to be used as those of the See of Hereford since his canonization.
The second Thomas we remember during October is Thomas Traherne who was a poet and spiritual writer born in Hereford around the year 1636. He also studied at Oxford and was a parish priest for ten years before becoming private chaplain to the Lord Keeper of the Seals of King Charles II. Much of his writing was never published during his lifetime and only appeared in print at the beginning of the twentieth century. He's one of the English Metaphysical Poets and among these poets his work is probably the most celebratory. That's because his work has little mention of sin and suffering and his focus is much more about the glory of creation. Much of his work has been set to music. Thomas Traherne died on 10 October 1674.
When I came into the Country and, being seated among silent Trees, had all my Time in mine own Hands, I resolved to spend it all, whatever it cost me, in search of Happiness, and to satiate that burning Thirst which Nature had rekindled in me from my Youth. (Centuries of Meditations, III, 46)
Elizabeth