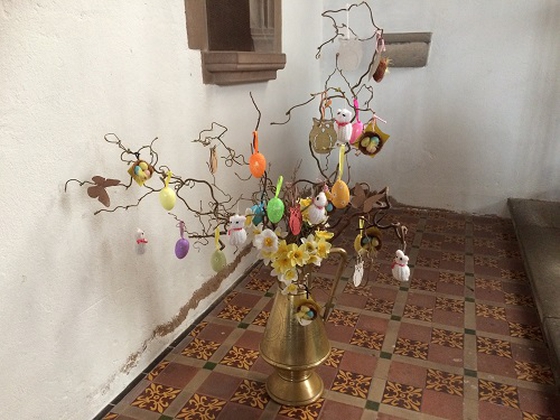 Hello everyone,
'Early on the first day of the week, while it was still dark, Mary Magdalene came to the tomb and saw that the stone had been removed from the tomb.' (John 20. Verse 1)
What a strange Easter season this is, with the churches locked and gatherings of people disallowed. How often have we heard it said – and maybe said ourselves – that 'the church' is not about the buildings, but about the people? In these unprecedented times we're discovering, or perhaps we're rediscovering, the truth of those words; perhaps we're also discovering the challenge of those words.
Of course, it's all made more complicated because we're not allowed to gather anywhere and so church cannot, in these days, be for us a meeting of disciples in any kind of a building or any kind of outdoor space. That's another challenge for us.
However, in amongst all the difficulties that we're presented with we are all discovering new ways to be both church and disciples. We're reaching out to others with cards, letters, phone calls, emails and messages in many forms. We're looking out for those who may need some help with shopping, or with tasks in the house or garden. We're helping each other to discover a spiritual life aided by the internet, the radio, the television or books.
If you've not yet created your Easter garden in your home or in your garden, it's not too late – Easter is a long season which doesn't end until Pentecost on May 31st.
The Easter season is about resurrection; it's about life. The fact that just now we can't gather together as disciples doesn't alter that.
An Easter hymn
The day of resurrection!
Earth, tell it out abroad;
the Passover of gladness,
the Passover of God.
From death to life eternal,
from earth unto the sky,
our Christ hath brought us over,
with hymns of victory.

Our hearts be pure from evil,
that we may see aright
the Lord in rays eternal
of resurrection light;
and listening to his accents,
may hear so calm and plain
his own "All hail!" and, hearing,
may raise the victor strain.

Now let the heavens be joyful!
Let earth her song begin!
The round world keep high triumph,
and all that is therein!
Let all things seen and unseen
their notes in gladness blend,
for Christ the Lord hath risen,
our joy that hath no end.
'Jesus said, 'go to my brothers and say to them, "I am ascending to my Father and your Father, to my God and your God." Mary Magdalene went and announced to the disciples, "I have seen the Lord." (John 20 verses 17&18)
Here are few ideas for spiritual support:
Church of England daily prayer www.churchofengland.org/prayer-and-worship/join-us-service-daily-prayer
Audio daily prayer: pray-as-you-go.org or www.24-7prayer.com/
BBC Radio 4: 9:45 Daily Service- also available at www.bbc.co.uk/programmes/b006wzfs
BBC Radio 3: Sunday 8:10 Sunday Worship. Sunday, 15:00 Choral Evensong
Apps for your smart phone: Pray-as-you-go #LiveLent
Reverend Elizabeth Cathie