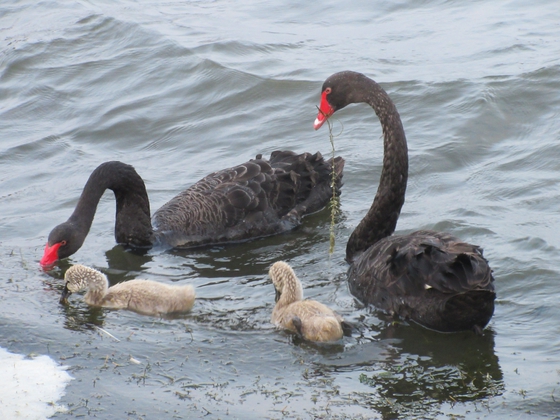 If you would like to watch the Climate Sunday service online, follow this link.
---
Climate Sunday - In his hand is the life of every living thing
In recent years we've all witnessed the heavy rain and flooding which has brought the reality of the climate crisis into the heart of our communities. We all know that damage to the environment caused by people isn't just happening in distant places, somewhere else – it's happening here and it's happening with us.
Each year local churches are encouraged to hold a Climate Sunday, and so that's the theme for the Deanery service on Sunday 30th August from which the following readings and reflections are taken. Whether you're reading this this Sunday, some other Sunday or on a different day of the week – welcome to climate Sunday.
A reading from the Book of the Prophet Jeremiah (Chapter 17 verses 7 & 8)
Blessed are those who trust in the Lord,
whose trust is the Lord.
They shall be like a tree planted by water,
sending out its roots by the stream.
It shall not fear when heat comes,
and its leaves shall stay green;
in the year of drought it is not anxious,
and it does not cease to bear fruit.
Reflection
Surely no-one can have missed the evidence around the world during recent months of clearer skies, cleaner air, a great deal less pollution, a significant reduction in food waste and much less buying of things which, it turns out, we don't really need.
Life has become difficult for many people in recent months and we've all had to adapt to new patterns of living – but the restrictions that have been placed on the world's people mean that the eco-systems are happier. Less human activity clearly enables more flourishing in the natural world – more wildflowers, more insects, more birds – more space for the world to breathe.
What we do to the world, and to the eco-systems of the world, matters; our selfishness in regard to the created order can't continue to be ignored. We've failed to curb our excesses for so long but now the world has itself shown us that things can be different if, for example, we can all learn to travel less.
Now is our opportunity to pick up the challenge that we're presented with and make good use of it. We can learn to want less. We can learn to give away – instead of throw away - what we don't need or use. We can learn to share with others more – much more.
When communities and countries can be like the trees of Jeremiah's writing, planted by water, with strong roots spread around and sharing the water, then in the many places of need in our communities and in our world, all may share in the plenty.
A reading from the Book of Job (Chapter 12 starting at verse 7)
'Ask the animals, and they will teach you;
the birds of the air, and they will tell you;
ask the plants of the earth, and they will teach you;
and the fish of the sea will declare to you.
Who among all these does not know
that the hand of the Lord has done this?
In his hand is the life of every living thing
and the breath of every human being.

'With God are wisdom and strength;
he has counsel and understanding.
Reflection
It's probably true to say that in a well-balanced eco-system it's only human beings who, knowingly and deliberately, take more than they need, and then waste some of what they take. The human race has no predators to keep its activities in check.
We need to stop producing food mountains that, for complex reasons, can't be used to feed people. We need to stop food wastage – good food ploughed into the land because it's the wrong shape. We need to stop crops which fail because the land is poor and there is nothing to enrich it, or there is no irrigation
The book of Job calls on us seek wisdom from nature when it proclaims that we should, 'ask the animals -'ask the plants', when it entreats us to observe the wisdom that the birds of the air and the fish of the sea present to us. We must look around with our eyes open and our minds engaged, so that we can more easily seek God's wisdom and counsel in the places where we find it offered to us.
Surely our plea – our call to God – must be 'have mercy Lord, renew the world you have made.' But God can't work alone – we all need to be on-board too. We all need to learn to work with, and not against, the creation and its creator.
A reading from Matthew's Gospel(Chapter 10verse 29)
Are not two sparrows sold for a penny? Yet not one of them will fall to the ground unperceived by your Father.
Reflection
If we start with the small and seemingly insignificant then surely we can all have a foothold in ecological change and the renewal of creation. A single sparrow matters. Single pieces of plastic – why we produce them, how we use them and how we dispose of them – matter. Every journey not taken by car matters. What we can each do may seem small and insignificant – but it makes a difference. We have to care and we have to see hope.
We have to care because ecological disaster is near and can't be ignored any longer. We have to care when people are suffering. When we see humanity losing its grasp of the well-being of the planet – then we have to care. When others can't care because the task is for them too daunting, their life is too fragile, each day is a struggle, their children go hungry – then we have to do the caring for them.
We see hope in the caring. We see hope in the projects that work against pollution, against excesses of plastic. We see hope in projects that work for a fair share of the earth's resources for everyone. We see hope in projects that provide clean water, good crops, healthy livestock. Our task is to walk lightly on the earth.
A reading from the Book of Psalms (Psalm 8)
O Lord, our Sovereign,
how majestic is your name in all the earth!
You have set your glory above the heavens.
Out of the mouths of babes and infants
you have founded a bulwark because of your foes,
to silence the enemy and the avenger.
When I look at your heavens, the work of your fingers,
the moon and the stars that you have established;
what are human beings that you are mindful of them,
mortals that you care for them?
Yet you have made them a little lower than God,
and crowned them with glory and honour.
You have given them dominion over the works of your hands;
you have put all things under their feet,
all sheep and oxen,
and also the beasts of the field,
the birds of the air, and the fish of the sea,
whatever passes along the paths of the seas.
O Lord, our Sovereign,
how majestic is your name in all the earth!
Prayer
O Lord our God,
exalted is your name in all creation,
yet you have stooped to become one with us:
as you have ordained humanity the steward of your creation,
so minister through us the mystery of your salvation;
to the glory of your holy name. Amen.
If you would like to watch the Climate Sunday service online, follow this link.