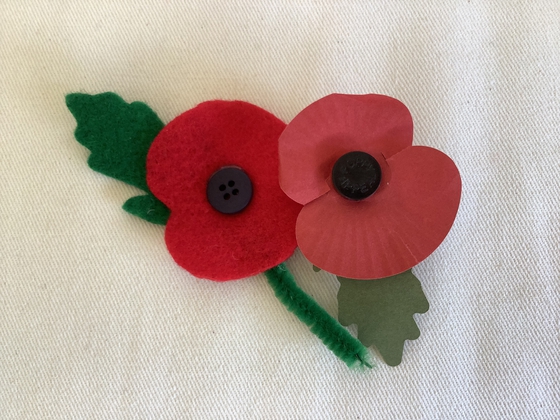 A service for the season of Remembrance
(Tune 'The Supreme Sacrifice')
God! As with silent hearts we bring to mind
how hate and war diminished humankind,
we pause, and seek in worship to increase
our knowledge of the things that make for peace.
Hallow our will as humbly we recall
the lives of those who gave and give their all.
We thank you Lord, for women, children, men
who seek to serve in love, today as then.
Give us deep faith to comfort those who mourn,
high hope to share with all the newly born,
strong love in our pursuit of human worth:
'lest we forget' the future of this earth.
So, Prince of Peace, disarm our trust in power,
teach us to coax the plant of peace to flower.
May we, impassioned by your living Word,
remember forward to a world restored.
A Prayer for Remembrance
Almighty and Eternal God,
from whose love in Christ we cannot be parted,
either by death or life:
hear our prayers and thanksgivings
for all whom we remember this day:
fulfil in them the purpose of your love;
and bring us, with them, to your eternal joy;
through Jesus Christ our Lord. Amen.
A Collect for the season of Remembrance
Loving God, whose will is to restore all things
in your beloved Son, the King of all:
govern the hearts and minds of those in authority,
and bring the peoples of the nations,
divided and torn apart by the ravages of sin,
to be subject to his just and gentle rule;
who is alive and reigns with you,
in the unity of the Holy Spirit,
one God, now and for ever. Amen.
Bible readings
Wisdom of Solomon 6.12-16
Wisdom is radiant and unfading,
and she is easily discerned by those who love her,
and is found by those who seek her.
She hastens to make herself known to those who desire her.
One who rises early to seek her will have no difficulty,
for she will be found sitting at the gate.
To fix one's thought on her is perfect understanding,
and one who is vigilant on her account will soon be free from care,
because she goes about seeking those worthy of her,
and she graciously appears to them in their paths,
and meets them in every thought.
1 Thessalonians 4.13-end
But we do not want you to be uninformed, brothers and sisters, about those who have died, so that you may not grieve as others do who have no hope. For since we believe that Jesus died and rose again, even so, through Jesus, God will bring with him those who have died. For this we declare to you by the word of the Lord, that we who are alive, who are left until the coming of the Lord, will by no means precede those who have died. For the Lord himself, with a cry of command, with the archangel's call and with the sound of God's trumpet, will descend from heaven, and the dead in Christ will rise first. Then we who are alive, who are left, will be caught up in the clouds together with them to meet the Lord in the air; and so we will be with the Lord for ever. Therefore encourage one another with these words.
Reflection
Westminster Abbey is a wonderful building has long echoed with the prayers of generations; its walls are infused with those prayers. If you've visited then you will recall the immense size and majesty of the building, its beauty and the part it's played in the history of England over the past thousand years. A considerable number of the great and the good – and occasionally the not so good – who now rest forever within its walls, Edward the Confessor, Henry the third, Henry the seventh, Mary Queen of Scots, Queen Elizabeth the first, Chaucer, Handel, Tennyson and many others, of royal, literary or musical fame.
But one tomb is in pride of place, everyone must walk around and not over it. Every visitor wants to see it and it always bears a decoration, a mark of respect, and flowers. It's the tomb of someone who was at first denied royal permission to be buried in the abbey. It's the grave and final resting place of the unknown warrior, the solider who represents all those who died in the battles of the First World War.
The idea for the tomb came from an army chaplain, the Reverend David Railton who had seen during the war, in a garden in France, a grave with a simple wooden cross with the words, 'an unknown British Soldier', pencilled on it. Railton wrote to the Dean of Westminster, the Dean wrote to the king and the king replied that the suggestion was 'distasteful'. Not easily swayed from his mission Railton wrote to Lloyd George, the Prime Minister, who clearly had more influence over the king than the Dean, because this time the king agreed and the idea began to become a reality.
The unidentified body of a soldier was chosen by General Wyatt from amongst rows of the bodies of British soldiers all covered with Union Flags. The man's face was never seen.
The body was placed in a sealed coffin and was accompanied by Anglican, Roman Catholic and Non-Conformist chaplains. On 10th November 1920 the Unknown Soldier began his final journey. He was escorted by the French to the British Destroyer HMS Verdun, which sailed to Dover with an escort of six destroyers. On arrival in England the soldier received a nineteen-gun salute from the ramparts of Dover castle. On the morning of 11th November the coffin made its way on a gun-carriage through the streets of London to Whitehall where the Cenotaph was unveiled by King George V, and then to the abbey, where, followed by the king, it was carried through a guard of honour of one hundred holders of the Victoria Cross, to be laid in the grave in the nave of the church. The grave was filled with a hundred sandbags of earth taken from the battlefields, and in the days that followed thousands of mourners filed past – each remembering the men, now dead, who had been their friends, their family and their comrades. And so was born Armistice Day.
Those that filed past that coffin surely felt that they had fought the war to end all wars, but sadly history was to prove them wrong. Our world is still torn apart by war and the rumour of war, and those in the armed forces in many countries today are still called on to practice the dreadful arts and science of war. Many have died in the years since the second world war and many more will still die, probably not in their thousands as in the two world wars, but in two's or three's, or alone.
I'm not sure which seems the greater lottery, being in the war zones of today and knowing that you probably won't die, but you just might, or being embroiled in a conflict as devastating and destructive as the First World War and knowing that you probably will die, but you just might make it home again.
Today we remember those who died in both world wars and in all the many conflicts around the world since then. We remember those who survived, and who live, or who have lived, lives forever scarred by their experiences and their memories. We remember the family and friends who have shared the journey, shared the suffering and shared the nightmares.We remember those whose lives and deaths would otherwise be forgotten, and we remember and pray for all those for whom war and the rumour of war are ever present in their daily lives.
The tomb of the unknown warrior represents all those who died in the Great War, but it represents so much more than that. Because for those whose lives were, and are, devastated by conflict or torn apart by the death of a loved one, the unknown warrior is every parent's child, he is every child's parent, he is every person's sibling, he is every survivor's friend and comrade. He is the one who could have written that well-known note that says, 'for your tomorrow I gave my today.' He is the one who will 'grow not old as those that are left grow old.' He is, rightly, buried amongst the great and the good in that amazing ancient building, Westminster Abbey.
An Act of Remembrance
These are some of the words inscribed on the tombstone of the Unknown Warrior.
Beneath this stone rests the body of a British warrior,
unknown by name or rank,
brought from France to lie among the most illustrious of the land …..
to commemorate the many multitudes who gave the most that man can give, life itself ….. for the sacred cause of justice and the freedom of the world.
Let us remember before God, and commend to God's sure keeping :those who have died for their country in war;
and whose memories are treasured;
and let us remember all who have lived and died
in the service of the people of the world.
You may like to light a candle in remembrance
They shall grow not old as we that are left grow old;
age shall not weary them, nor the years condemn.
At the going down of the sun and in the morning,
we will remember them.
You may like to keep a traditional two minute silence.
When you go home
Tell them of us and say
For your tomorrow
We gave our today.
Let us pledge ourselves anew
to the service of God and our fellow men and women:
that we may help, encourage and comfort others,
and support those working for the relief of the needy
and for the peace and welfare of the nations.
Lord God our Father,
we pledge ourselves to serve you and all humankind,
in the cause of peace, for the relief of want and suffering, and for the praise of your name.
Guide us by your Spirit;
give us wisdom: give us courage; give us hope;
and keep us faithful now and always. Amen.
Prayers
Pray for people who are today affected by war; for all who are made homeless and refugee.
Pray for those whose memory of war is long-distant but who continue to suffer physical or emotional pain.
Most Holy God and Father,
hear our prayers for all who strive for peace
and all who fight for justice.
Help us, who today remember the cost of war,
to work for a better tomorrow;
and, as we commend to you lives lost in terror and conflict,
bring us all, in the end, to the peace of your presence. Amen
Once we had dreams – words by Rosalind Brown (tune Finlandia)
Once we had dreams, dreams of a new beginning
When we had fought the war to end all wars,
A world of peace, where people live in freedom,
A world where justice reigns for evermore,
And yet, and yet, each year as we remember
We know too well how subtly dreams can fade.
In this our world where peace is often fragile,
Where war and hatred grip, where children die,
Too easily our hearts are dulled to suffering,
Our ears are deafened to the hopeless cry;
We fail to grasp the call to be peace makers,
We act in fear and let the vision fade.
Still we need dreams: O God make us your dreamers,
Inflame our passion for a world made whole,
A world where love extends to all a welcome,
Where justice, like a powerful stream, will roll,
Come, Prince of Peace, our fading hope rekindle,
'Your kingdom come' we pray, let peace be made.
A Blessing
Go forth into the world in peace, be of good courage,
hold fast to that which is good, render to no one evil for evil,
strengthen the faint hearted, support the weak,
help the afflicted, honour all people,
and know the blessing of God, who is Father, Son and Holy Spirit,
in your life today and always. Amen.