You'll find contact details for our local clergy on this page, or just follow the adjacent parish page links to find other contact information.
---
Vicar: Revd Elizabeth Cathie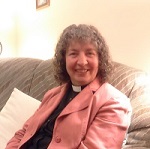 St Weonards Vicarage
Mount Way, St Weonards
HEREFORD HR2 8NN
T: 01981 580137
You may be aware that Elizabeth has announced her retirement from full-time stipendiary ministry from 30 April 2021. If you have an enquiry about services or pastoral needs after this date, please contact our Associate Minister, Revd Frances Phillips. We thank Elizabeth for her ministry among us since December 2015, and wish her and her husband Sean a happy retirement as they move to Hereford.
---
Associate Minister: Revd Frances Phillips

New House
Garway Hill
HEREFORD HR2 8EZ
T: 01981 240032
Please note that Frances is a non-stipendiary self supporting minister, and serves our parishes on a part-time basis.