St Dubricius' Church, Hentland
---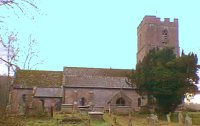 ---
The parish church of St Dubricius Hentland is one of the oldest in the deanery of Ross & Archenfield (the latter name being that of the Anglo-Saxon kingdom of roughly the same area). Although the main part of the church dates from the 13th and 14th centuries, part of the north wall is dated around 1050, the time of Edward the Confessor.
There is strong evidence that Hentland was a thriving community as far back as the 4th and 5th centuries AD, consisting of settlers who were probably drawn to the site by the presence of a spring which runs clear to this day below the north-east corner of the churchyard.
The name Hentland is modern version of the Welsh Hen-Llan, meaning "Old Church". It is dedicated to St Dubricius, a legendary but influential figure of that era, who is depicted in the window in the north wall.
For more information on our church, please take a look at our visitor leaflet -- and do come and see us!
You can also follow the progress of our church restoration on our project page.
---
For more information about Hentland Church, please visit the Herefordshire Through Time site.
---
Finding Hentland Church
Postcode for sat nav: HR9 6LW
Grid reference: SO 542 263
Take the A49 from Ross-on-Wye towards Hereford. After the Pengethly Garden Centre and Pengethley Manor Hotel, take the next road on the right. After nearly a mile, on a bend to the left, turn right and follow the small lane to its end, where you'll find this beautiful, secret church backing on to National Trust land.
---