Vicar
Revd Elizabeth Cathie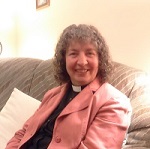 The Vicarage, Mount Way, St. Weonards, HEREFORD HR2 8NN
T: 01981 580137
---
Associate Minister
Revd Frances Phillips

New House, Garway Hill, HEREFORD HR2 8EZ
T: 01981 240032
Frances is a self-supporting minister.
---
Data Protection
Within the St Weonards group of parishes, we seek to comply fully with the General Data Protection Regulations (GDPR).
For further details, please refer to the Data Privacy Notice for St Weonards PCC. Similar policies and procedures are in place for all parishes in the benefice. Please contact our Vicar or one of the churchwardens for more information.
---