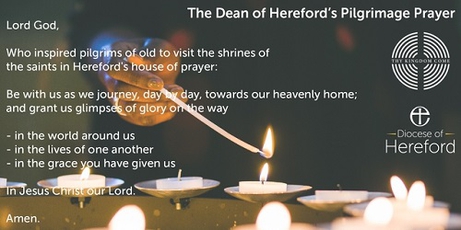 Thy Kingdom Come Pilgrimage & Beacon Event 2018
20 May 2018 2:45PM — 5:30PM
Thy Kingdom Come 2018
Join a global wave of prayer from Ascension to Pentecost -- and our Diocese in praying for more people to know Jesus between 10-20 May.
The culmination is a Diocesan Family Celebration at Pentecost on Sunday 20 May at Hereford Cathedral.
Short pilgrimages are being organised from some Hereford 'hub' churches into the Cathedral. On arrival there will be short prayers followed by refreshments.
Or you are also very welcome to head straight to the Cathedral and be part of the welcome for those undertaking the pilgrimages. At the Cathedral, there will be Messy Church activities, prayer stations and some refreshments available.
The afternoon will conclude with a Diocesan Family Service for Pentecost from 4.30pm-5.30pm.
Pilgrimage
Pilgrimage has been at the heart of Hereford Cathedral since its early days. We know from records that most pilgrims were local -- their journey to Hereford a maximum of 2 days' walk. We're re-creating a 'local' pilgrimage this year with Thy Kingdom Come, as we invite you to gather at local churches and then to make your own 'pilgrim journey' to our cathedral for the Thy Kingdom Come 'Beacon Event'.
However we engage with pilgrimage today, the themes and aspirations are the same as they were for pilgrims of old:
- companionship
- a spirit of penitence
- seeking healing
- an anticipation of Heaven.
Come and join our pilgrimage on Pentecost Sunday (20 May) and play your part in this ancient tradition -- still so relevant and important today.
There are four 'hub' churches in Hereford where groups of people can gather for a short prayer session before forming pilgrimages to Hereford Cathedral.
Click the location below to book your free tickets:

Beacon Event leaflet
There are two versions of the leaflet, one optimised for viewing online, and the other optimised for printing:
- Online version
- Printable version
For any more information, please contact our vicar or your churchwarden, or Stephen Herbert.
Back to events